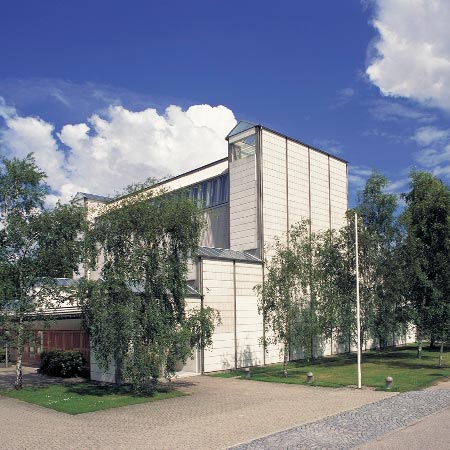 Exterior
Externally, Bagsvaerd Church in Denmark most of all resembles a factory building, or a public facility - not a church. Once inside, the building opens into visionary and welcoming spaces.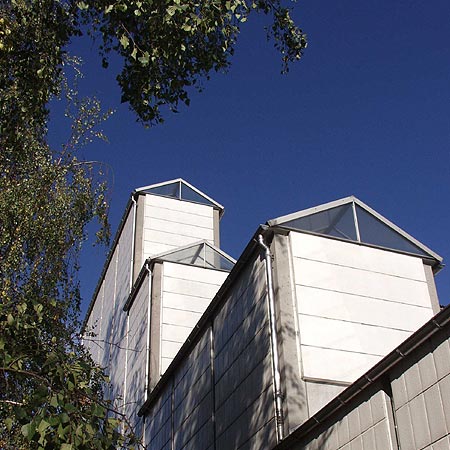 Church room
The in-situ cast church roof was designed with inspiration from cloud shapes and oriental calligraphy. As a result it bears closer resemblance to dynamic and organic shapes than conventional construction elements.
Wooden furniture is used to add warmth to the impression given by the room.
The gallery
The gallery is separately lighted from above, with light percolating down the rough white concrete surface of pre-cast elements, like water trickling down a rock face. This effect adds an extra dimension to the ambience of the room.
The altar
The altar and baptismal font are made from polished white concrete that fits well into the general ambience of the room, and creates a sense of unison between the clouds above and the congregation below.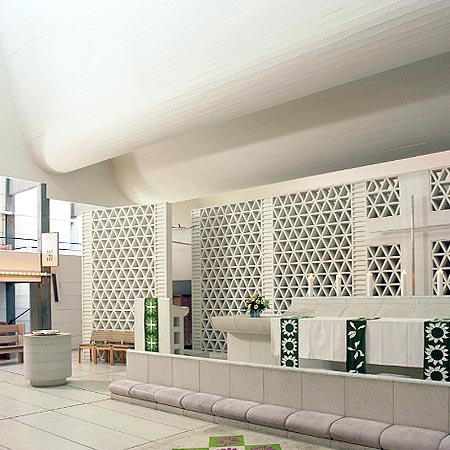 Light and shadow
Exterior lighting is used to give a pronounced cloud-like appearance, and creates an impression of air and tranquility. One can almost visualize the inside of a breaking wave, or the underside of a drifting cloud.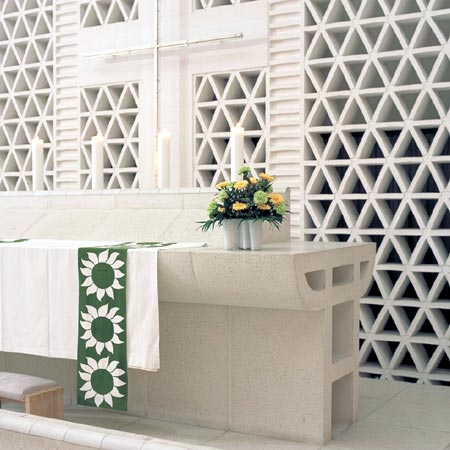 The clouds
The sketch clearly illustrates, how Utzon was inspired by the sunlight and Trade Wind cloud formations, while lying on a beach in Hawaii.
The ambience of light streaming through the clouds was eventually reflected by the curvy, white concrete ceilings of Bagsvaerd Church.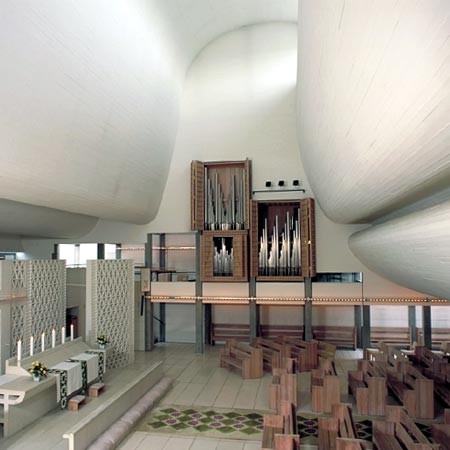 Calligraphy
Utzon's admiration for the smooth flow of the script of Islamic calligraphy is resembled in the profile of the church building ceilings.
For more information on Jørn Utzon and his work, please be inspired by the book Utzon by R. Weston, Edition Bløndal 2002 [www.edition-blondal.dk].
Images by courtesy of Arcspace.com & Per Mørkhøj