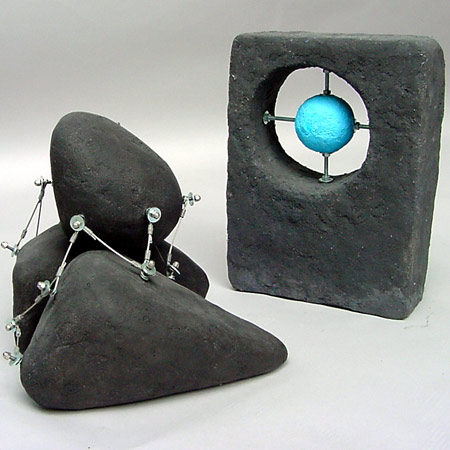 The sculpture consists of two parts: first - pregnant woman's body that was abstracted to just her stomach as a very essence of her current state, and second - a "mirror" that shows a reflection of the universe inside of her stomach. This sculpture is about the way a pregnant woman sees herself and where the concentration of her thoughts lays.
The sculpture Pregnant Woman Looking in the Mirror is made by Rae Bolotin, born in Uzbekistan and today an Australian resident. After experimenting with different materials, she is now well known for her beautiful concrete sculptures based on white cement.
Concrete has become Rae Bolotin's preferred medium as a sculptor and she uses all sculptural techniques to achieve the desired result. She casts concrete, works directly over metal mesh, or carves it.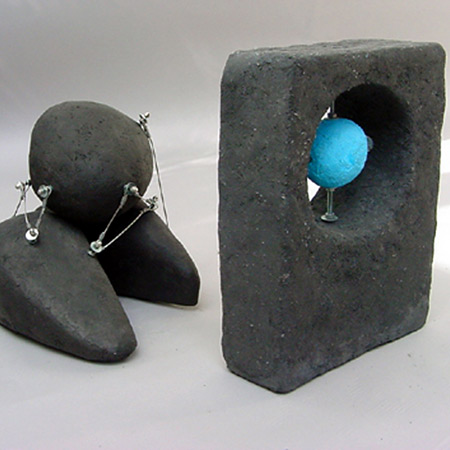 To create Pregnant Woman, Rae Bolotin first cast large blocks of white cement mixed with brown or blue oxide and vermiculite and after setting it was ready for her to carve it. Vermiculite is added to ease the carving process.
The concrete used for making the "mirror" Rae Bolotin also added some fiber. Usually, fibers are added for strength but Rae Bolotin added it to create a visual effect. Rae wanted to communicate the thought that when a pregnant woman is looking at herself in the mirror, she sees not her reflection on the shiny surface but the universe of the future child inside. So by making the fibers visible on the surface Rae Bolotin achieved a surface as unlike a mirror as possible to illustrate her thought.
Even though Rae Bolotin works in relatively small scales, she dreams of them being realised one day in a large scale. Pregnant Woman Looking in the Mirror measures about 30cm X25cm X 45cm.